Landscaping and Lawn Care Services
Lawn Maintenace and Lawn Care
With busy work schedules, families and hectic social lives, setting aside the time time for landscaping and lawn maintenance can be a real burden. At Santarella Landscpaing, we help you save your time for what is really important with both our weekly and bi-weekly lawn mowing service. ...and we do not stop at lawn mowing, at Santarella we not only mow your lawn, we also weed and trim the edges of your property to keep it looking healthy and immaculate. As the seasons change, we offer fall yard cleanups and spring cleanups to tidy up your property and rid it of unwanted leaves, branches, and weather damage.
Landscaping
Since your property is the first thing people see, we want to help you make a good impression. Using over a decade of landcsaping experience, our landscaper designers think INSIDE and OUTSIDE the box. First, we evaluate your property. After the evaluation, we create a landscaping design to match your vision. Typically, our landscpae designers include planting (shrubs and trees), soding and landscape reconstruction.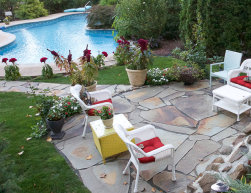 Landscape Design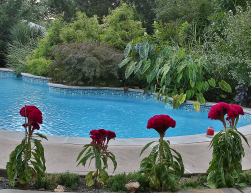 Landscaping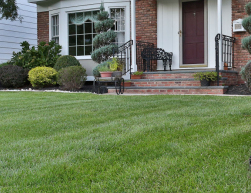 Weekly Lawn Care Service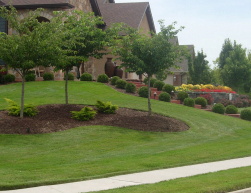 Spring & Summer Yard Cleanups
EXCELLENT SERVICE for over 10 YEARS!

"When we moved to Springfield in 2002, we hired Sanatarella Landscapers. The quality and reliablility of their work is top notch! In fact, they now service most of our street. We highly recommend Santarella!"
- Louis Vasilow, Landscpaing and Weekly Lawn Care Services, Springfield, NJ
The Neighborhood Landscaper
Planting, pruning, and mulching will visually enhance the appearance of your home, adding a touch of charm and allure. Planting surrounding patios, walkways, and outside nooks create a comfortable and warm environment. Additionally, more complex planting can be used to create a secluded space. Pruning, including the shaping and reshaping of trees, gives your yard a polished look. Mulching not only increases health of your trees, but adds to the crisp, well-kept allure. Our other landscaping services include:
Lawn maintenance & repair
Weekly lawn cutting
Seeding and dethatching
Soding and turf care
Grading
Mulching
Spring and fall cleanups
Tree, hedge and shrub pruning
Landscaping design and installation
Fertilizing including organic lawn treatments
Fertilizing including organic lawn treatments
Hardscape design (see our masonry services)
Tree and shrub selection and planting
Garden and bed design
Are you saying, "I need a landscaper near me?", look no further than Santarella Landscaping.
Santarella Landscaping serves the surrounding areas:
Millburn
Mountainside
Scotch Plains
Short Hills
Springfield
Summit
Westfield
Contact Santarella Landscapers
If you are looking for a quality, affordable and reliable landscpaer, then look no further than Santarella Landscaping. Our knowledgeable landscaping experts will assist you with the design, installation and care of your property. Contact us by phone at 973-564-7820 or email for a FREE landscaping estimate.