New Driveway Installations
TIMELESS BEAUTY!

"When it was time to have our driveway redone, we decided to go an untraditional route. Santarella was perfect for the job! Carmine installed a breathtaking stone pattern that brought natural beauty to our yard. They stuck to their estimate and even finished the job early!"
- John and Lia F., Driveway Installation, Summit, NJ
A beautiful, new driveway yields both practical and aesthetic benefits for your home. As experienced driveway contractors, we understand that your driveway adds beauty and value to your home. Our designers review your property and not only help you design your driveway, but also assist you in selecting the materials. Driveway pavers are an up-and-coming alternative to asphalt. Concrete, brick, and stone driveways add charm to your property through their natural beauty. A smooth, clean-lined driveway adds value to your home and is a huge asset during resale.
From a functional perspective, we engineer and construct the driveway to ensure its longevity! Our driveways are constructed to preserve its structure and beauty in the context of the weight of heavy cars and harsh summer and winters. The quality of our driveway installation relieves you of the burden of future repairs.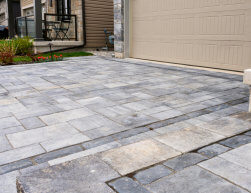 Stone Driveways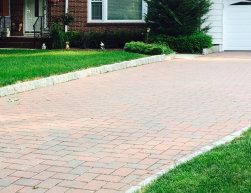 Paver Driveways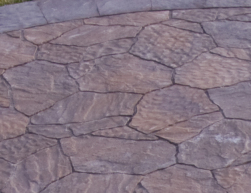 Stamped Concrete Driveways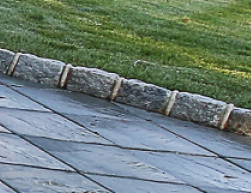 Belgium Block Curbs
Paver Driveway
Today, with the proliferation of different paver styles, sizes, patterns and colors, a paver driveway is a great choice to improve your home's curb appeal. Our design experts can assist you in selecting the perfect paver to complement your home and yard.
Concrete and Stamped Concrete Driveway
Although it has a traditional feel, a concrete driveway can add a modern and customized twist to your home. A stamped concrete driveway is the perfect way to incorporate a personalized touch. We offer a variety of established patterns or work with you to create your own. A paver driveway can be made to resemble its natural stone counterpart. Textured concrete adds a richness to the surface and is an economic alternative to natural stone or brick options. A stained concrete driveway allows you to further customize the feel of your space. With a sea of color options, you can choose anything from earthy browns to crisp greys.
Brink Driveways
A brick driveway is a terrific choice to add old world charm to your property. We can install everything from a line pattern to a classic weave. Our expertise in masonry enables us to execute patterns and designs beyond traditional boundaries as well. Brick driveways are also versatile in color options.
Stone Driveways
A stone driveway is another traditional alternative. The allure of stone is its natural beauty and upscale feel. With a range of colors, we will work with you to find the perfect complement to your home. Even more, a cobblestone driveway is a great way to bring a more rustic charm to your property.
Are you saying, "I need to find a driveway contractor near me?", then look no further than Santarella.
Contact Santarella Masonry
If you are looking for a quality, affordable and reliable mason for your driveway installation, then look no further than Santarella Masonry. Our knowledgeable driveway experts will assist you with the design, material selection and installation of your new driveway. Contact us by phone at 973-564-7820 or email for a FREE driveway estimate.