Patios
A patio is a great way to add another dimension to your home, both physically and visually. Patios create a unique and versatile space by providing a surface suitable for outdoor furniture and entertainment features, allowing you to truly expand the depth of your home. Not only functional, patios add character and charm to your outdoor space. With so many options in terms of size, style, and design, our patio designers work with you to design a patio which complements your home. Also, our combined expertise in masonry and landscaping allows us to cater to your family's individual preferences and needs.
Our patio design process begins by meeting with the homeowner to understand their needs. After capturing the essence of your vision, our patio designers craft a unique design incorporating the layout and materials that compliment your home. We offer brick, concrete, stone, and paver options.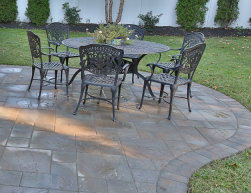 Paver Patios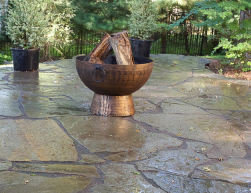 Stone Patios & Brick Patios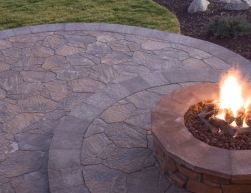 Stamped Concrete Patios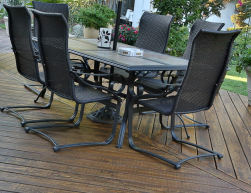 Decks
WE LIVE IN OUR OUTDOOR SPACE

"We had such a great backyard, but were unable to truly enjoy it. Carmine took one look at our property and came up with a beautiful patio design that showcased our greenery and allowed us to add a table and couch set. We now enjoy every inch of our yard!"
- Mary and John V., Patio Installation, Short Hills, NJ
Paver Patios
Today, paver patios are very popular. Pavers interlock to create an authentic look and durable solution without losing that old world charm. A pavers patio can bring a unique vision to your space. With pavers you have a wide selection of paver types, colors and sizes. Brick pavers differ from real brick in that they are made from concrete instead of clay. Stone pavers appear natural, but are uniform in structure.
Brick Patios
A brick patio offers a great versatility in that it can be constructed in a wide variety of ways, especially in a traditional sequence or as a unique custom layout. With everything from conventional lines and diagonals to weaves and out-of-the-box patterns, we will work with you to find the perfect balance. Brick comes in a vast assortment of colors and finishes as well. We can even incorporate a grass landscape in between a brick pattern for a whimsical twist on a classic patio design.
Stone Patios
Stone lends itself to a modern take on a traditional patio charm. Natural stone patios range in color, size, and shape. From beiges and browns to greys and blacks, each stone patio embraces a customized, natural look. We'll work with you to create your vision, be it rustic, contemporary, or completely unique.
Stamp Concrete Patios
A concrete patio opens up a world of opportunity for your outdoor space. The malleability of concrete makes it an exciting option for homeowners interested in essentially creating a patio from scratch. Concrete patios are also extremely durable in terms of use and weather. Our specialization in masonry allows us to conceptualize concrete patio ideas using your vision.
A stamped concrete patio can take any shape, size, and design. We can use concrete to mimic brick and stone patterns, or create an unique, one-of-a-kind design just for your home. Stamped concrete patios can also incorporate various textures and gradients. Even more, a stained concrete patio adds to the customization of your outdoor space. Pigments intended to mimic stone or brick can give you a traditional feel while colors and color-incorporated designs bestow a modern twist.
Are you saying, "I need a patio contractor near me?", if so, look no further than Santarella Masonry.
Contact Santarella Masonry Contractors
If you are looking for a quality, affordable and reliable mason for your patio installation, than look no further than Santarella Masonry. Our knowledgeable patio experts will assist you with design, material selection and the installation of your new patio. Contact us by phone at 973-564-7820 or email for a FREE patio estimate.