Sidewalks and Walkways
With endless draw-dropping options, let us help you take pride in welcoming guests into your home!
Whether you want to make a statement or create a subtle and effortless look, we strive to make the first impression of your home flawless. If you're looking to replace an existing front steps or walkway or start from scratch with a brand new sidewalk, we specialize in designing the perfect fit for your family. We strive to compliment existing and future greenery as well. As both a masonry and landscaping service, we work to incorporate sidewalks into the landscape.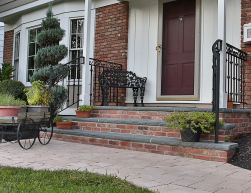 Paver Walkways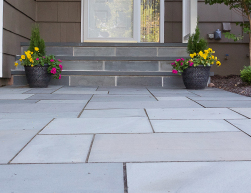 Blue Stone Walkways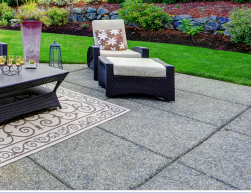 Concrete Sidewalks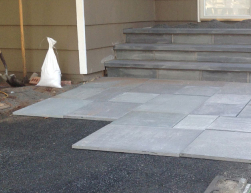 Constructed to Last a Lifetime
FUNCTIONAL ART!

"Our old walkway was falling apart and becoming a hazard. Carmine came in and designed an elegant stone walkway that complimented our house's existing stone. Now, our walkway is not only functional, but also a piece of art!"
- The Braids, Walkway Design and Installation, Scotch Plains NJ
Why opt for sidewalk replacement or repair?
Uneven and bumpy walkways become a burden to both you and guests. By pursuing sidewalk repair, you can eliminate the risk of injury and create a smooth surface for people to walk and children to play.
Paver Walkway
A paver walkway is a versatile alternative to natural stone or brick. Without losing that rugged look, walkway and sidewalk pavers are extremely weather resistant and durable. Mimicking authentic materials, walkway pavers are lesser in cost.
Concrete Sidewalk
A concrete sidewalk is another economic alternative to authentic brick, wood, and stone. Most notably, concrete walkways resemble a blank slate. A stamped concrete walkway can mimic virtually any texture or pattern. Even more, a stained concrete option allows you to incorporate color, adding a modern twist.
Textured Stone Walkway
A textured stone walkway can give your home a rustic and traditional edge. Keeping with our old world masonry, options, such as a cobblestone walkway, are modern displays of traditional charm. A wide array of colors allows us to blend eye-catching stones into any home, style, or color scheme.
Brick Sidewalk
A brick sidewalk is another way to give your property a rustic and authentic look. Aside from the standard line or weave, our brick walkways can assume infinite patterns custom to your vision. With a sea of color options, brick walkway is a classic complement to a traditional home!
Why choose Santarella?
With an expertise in masonry, we construct more than your standard sidewalk or walkway. Instead, we transform the passageway into another outlet for showcasing your property's charm. Our company's old world roots enable us to enhance your space with customized designs in paver, concrete, stone, and brick options.
Are you saying, "I need a sidewalk contractor near me?", if so, look no further than Santarella Sidewalk Mason.
Contact Santarella Masonry
If you are looking for a quality, affordable and reliable mason for your front sidewalk or walkway installation, than look no further than Santarella Walkway Masons. Our knowledgeable sidewalk experts will assist you with design, material selection and the installation of your new sidewalk. Contact us by phone at 973-564-7820 or email for a FREE sidewalk estimate.