Outdoor Fireplaces, Fire Pits and Outdoor Kitchens
Timeless Elegance
With a specialty in masonry and design, Carmine Santarella goes beyond creating a functional outdoor fireplace, fire pit or kitchen, he creates masterpieces. Using his outstanding artistry, skill, and workmanship, each project is custom built to match the home owner's unique tastes. He approaches every project with the goal of designing a custom outdoor space (shape, size, and materials) to perfectly compliment your ideas and space.
Santarella Masonry offers a wide range of material options, extending well beyond the typical stone. We create fireplaces, fire pits and sitting walls from brick, tile, granite, stone, pavers and concrete. We also are open to any ideas you may have to bring your vision to fruition! From old world charm to modern elegance, our use of a variety of materials will make your dreams a reality.
Outdoor fireplaces, fire pits and kitchens are the ideal ways to extend your home while making the most of your backyard.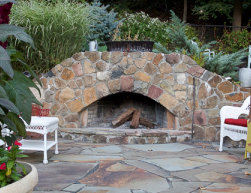 Outdoor Fireplaces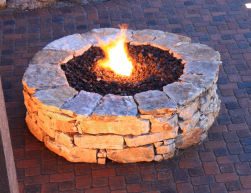 Fire Pits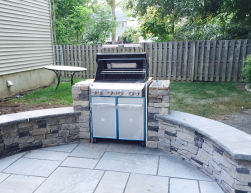 Outdoor Kitchens
Seating Walls
Our FIRE PIT AREA is the MOST POPULAR ROOM in our HOME!

"My family is constantly entertaining, so we decided a fire pit with a seating area would be the perfect addition to our backyard. Carmine designed a beautiful stone fire pit and sitting wall that accents our existing patio and furniture. We can't get enough of that space!"
- The Valenzanos, Fire Pit, Patio and Seating Area, Mountainside, NJ
Outdoor Fireplaces
An outdoor fireplace functions as a unique gathering spot, a source of warmth on chilly nights, and an aesthetic addition to your property. A patio fireplace allows for a cohesive feel, ideal for any open layout. For a more private or earthy look, outdoor fireplaces can be placed in yard areas, integrated with the landscape.
Fire Pits
An outdoor fire pit is a great focal point for entertaining. Outdoor fire pits are not limited in location either, fire pits can be either built into the patio or place mid-yard or in a secluded space to create a quiet and cozy vibe. To finish off the space, we can create a beautiful, functional seating wall!
Outdoor Kitchens
Nothing is more popular today than an Outdoor kitchen. At Santarella Masonry, we create elegant outdoor cooking and dining areas. We integrate gas grills, smokers, refrigerators, lighting, counter tops (granite and stone) with beautiful patios areas, sitting walls, fireplace and fire pits. Contact our outdoor kitchen designers and implementers and find out how we can transform your outdoor space.
Repair, Remodel and Restoration Services
In addition to creating beautiful outdoor spaces, we offer firepit remodel services and fireplace repair for existing structures. We can repair your fire pit or fireplace to restore a look you love or refinish it to create a whole new, unique image.
Are you saying, "I need a fireplace or fit pit contractor near me?", if so, look no further than Santarella Masonry.
Contact Santarella Masonry Contractor
If you are looking for a quality, affordable and reliable mason for your outdoor fire place, fire pit or kitchen, than look no further than Santarella Masonry. Our knowledgeable outdoor fire place, fire pit or kitchen experts will assist you with design, material selection and the installation of your new fireplace, fire pit or kitchen. Contact us by phone at 973-564-7820 or email for a FREE fire place, fire pit or outdoor kitchen estimate.